Here is our itinerary of the first two days in Northern Norway. We stayed there for 10 days passing through the counties of Troms and Nordland to end in the Lofoten Islands. You will be able to follow through 3 articles our detailed route with GPS points if you are interested in the same places as us :). This first article deals with the county of Troms with a section where I talk about the plane / Airbnb / car rental / currency / hour of day and night.
 
Plane
First of all, to go to Norway you can either travel with Norwegian Airlines or with Scandinavian Airlines (SAS). We chose SAS since there was not too long a stopover in Oslo. The price was €213 round trip from February 7 to February 17, 2020. We chose to land in Tromsø but if you only want to do the Lofoten Islands you can land in Bodø and then take a ferry to the islands.
Rental car
We chose the Hertz company. The pick up was in Tromsø airport, which was very convenient. However, we had a larger car than the one we reserved (which doesn't bother me), but only fitted with snow tires without studs. As we are new drivers on snowy and icy roads, we were not very confident about the grip of the tires on the ice. The same evening, we went shopping and from the first corners we felt that the car did not adhere very well… We went back to the airport to ask if it was normal that we are only tires snow and the rental company said yes… Otherwise the car was super comfortable, automatic, heated seats…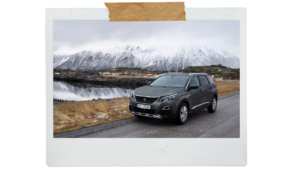 Airbnb
You should know that Norway is a fairly expensive country. I even found Airbnb at 2000 € per night (yes yes …). The prices of our Airbnb vary between 70 € and 110 € per night for 3 people (but we could be 4 or more). I shared a good address of our best host in this article. In addition, I will tell you about a little mishap with another accommodation.
€ Money
In Norway, the currency is not the euro but the Norwegian krone (NOK). 10NOK = around 1€, which facilitates conversion calculations! Do not hesitate to download the XE currency app on your smartphone to be able to do the conversions when you travel.
☾ Sunrise/Sunset
The days can be very long or even endless in summer, but in winter they are very short. In January, the sun can set around 12pm. We went there in early February so the daytime amplitude was as follows: sunrise 8:30 am / sunset: 4 pm.
Day 1 – Tromsø
Finally, we arrived in Tromsø airport at night, picked up the rental car, did some quick shopping and went to our first Airbnb of the trip (1 hour from Tromsø). It is the largest city in Europe above the Arctic Circle. Our first Airbnb was located in Sommarøy.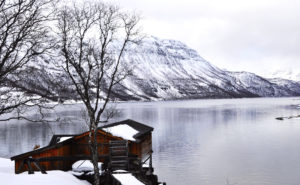 Day 2 – Senja Island
This island is the second largest island in Norway with an area of 1,586.3 km². There are 8000 inhabitants and magnificent viewpoints. We started with the viewpoint of Bergsfjorden, Skaland which is in the northwest of the island. Here is a platform where we overlook a magnificent fjord. GPS: LIEN MAPS (adress: Fylkesvei 862, 9385 Skaland, Norvège). 
◊ Tungeneset viewpoint
I had heard of this well-known point of view where you can admire the famous devil teeth. It is one of the only places in Northern Norway where tourists have been seen. Here you can also see whales and the Northern Lights at night.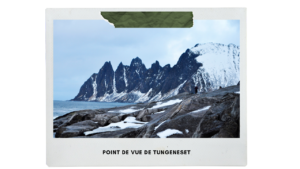 ◊ Ersfjord Beach
We then headed to the beautiful Ersfjord beach. It's so unusual to see yellow sand surrounded by snow-capped mountains with the waves of the Norwegian Sea coiling and landing on the sand.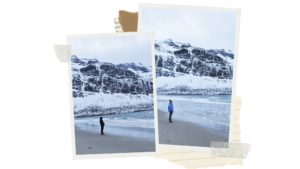 Day 3 – Ånderdalen National Park
We slept in the south of the island of Senja to be able to go in the morning to hikes that were indicated on the application All Trails. However, in winter everything becomes more complicated since the snow has settled on the trails and our hiking boots sink into the fresh snow. This hike is marked as "easy", 12 km long. We saw a beautiful sunrise lake view. We met a Norwegian girl who told us that this is the first time she has taken this path in cross-country skiing. At least she was equipped! We did a small part of this hike but our shoes are too deep in the powder so we decided to turn around to find a place to taste our salmon sandwich.
There is a pretty cool picnic area with a lighthouse, mountains and the Norwegian Sea as a backdrop. However, food here in Norway is very expensive. For example, we bought a packet of rice for € 7. On the other hand, salmon being the local specialty is not expensive: 4 salmon steaks for 5 €, which is the same price as a box of ricolas!
Day 4 – Harstad
We left early in the morning to go to Harstad and start the technical hikes. Obviously, like the first hike of the trip, all the getaways get complicated in winter, especially when you are only equipped with decathlon hiking shoes … We arrived in a very cute little village surrounded by mountains but we can hardly find the departure of the hike that we wanted to do … I shared the GPS point of departure (in purple), there is normally a parking lot but with the snow we did not really see where it was located exactly.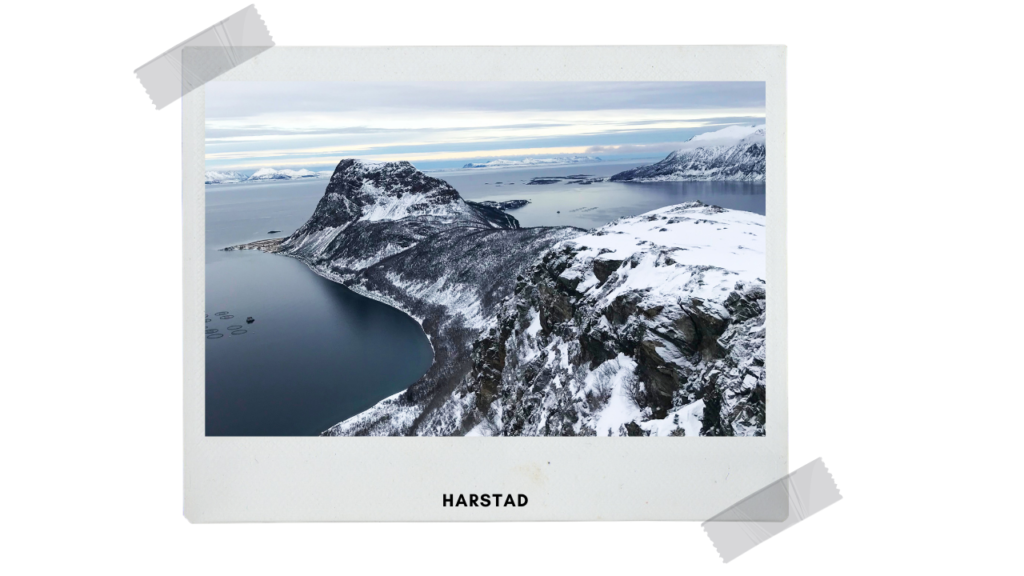 Hinnøya
Finally, we ended the day in the village of Hinnøya. It started to snow, which makes the place magical! What is funny in the Norwegian villages is that practically all the houses have luminaires which hang on their windows. I find it very beautiful and very cozy! The water is transparent and the colorful houses spice up the landscape. I hope you enjoyed this article. Don't hesitate to follow me on  instagram and youtube.
.