✍ Previous articles about Troms county 
and Nordland county.
Day 6 –

The Lofoten Islands
After the whale island of Andenes (previous article), we arrived in the Lofoten Islands. Officially, the Lofoten Islands are not part of Lapland. The archipelago is made up of several islands: Austvågøya, Vestvågøya, Gimsøya, Flakstadøya, Moskenesøya. We were alone in the world, admiring the beauty of the place. On the top of the mountains with a view of the fjords, in the small typical Norwegian villages or on the sandy beaches with the 4.5 degrees Norwegian Sea.
You will take the E10 which is the main road. However, be careful when you come across trucks, it can become dangerous as they go fast and the roads are icy. This archipelago is 1,227 km² for 24,500 inhabitants. That's why, if you were planning to spend only few days you might change your plans: the beauty of these places will make you want to stay longer! In addition, the roads are winding and an hour-long journey in winter can take you 3.
Laukvik
Our Airbnb was located in Laukvik, a small town of 400 inhabitants. Here we met Rune, our Airbnb host. He welcomed us into his big old and beautiful cosy house. Native from Oslo and left his job to come and live here a year ago. He had lit about 25 candles when we arrived and placed cookies and crisps in small containers. Then he offered us fish he had caught recently. When he was younger, he went by boat from town to town. He grew up here and then left for Oslo to finally come back here. Besides, he let us know that he has a boat parked not far from here. He suggested us, if the weather would be ok, to go for a ride tomorrow morning. Of course, we accepted.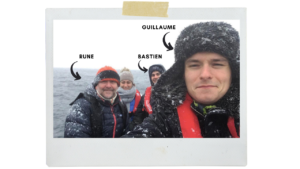 After a good night, we joined him at the bottom of his house in the direction of Kabelvåg. This small town of 2000 inhabitants is amazing. He told us that to have a parking space at the port you have to know someone. He was lucky to have one that has belonged to his father for 30-40 years. Here, people make a living from fishing: they can earn 80,000 to 200,000 euros a year. Fishing lasts 3 months in winter.
.
Stockfish
We were surprised to discover that in Norway they dry their fish on large wooden structures, which they use as dryers. The smell of dried fish is very strong. They have used this method of conservation from February to May in places by the sea since the time of the Vikings. Wind, sun, rain and temperatures around 0 degrees are ideal conditions for drying fish. The stockfish consists mainly of Arctic cod, caught above the Arctic Circle. It is one of the healthiest and most natural fish on the market because it is rich in protein (78.5%), vitamins D, B12 and iron.
This island is the first one when you arrive from the north. It counts the locality of Svolvaer. If there is one city I wanted to see on this island, it's Henningsvaer. It is one of the most picturesque villages in Lofoten. The 7km long road runs along a rocky coast with lush vegetation. This is the first time that we have seen so many tourists. And yet there weren't that many. Here it is a haven of peace, there are restaurants, a magnificent fishing port, houses each more beautiful than the other and … A STADIUM! right in the middle of the little island.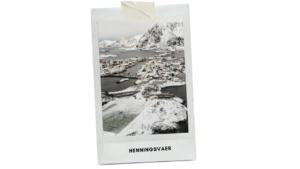 The weather
In Norway, the weather changes very often: in the morning we had a snowstorm and in the evening a magnificent sunset over the mountains. In winter, Norway offers much more limited transport possibilities. Most of the ports are closed. These sometimes shorten journeys considerably. I am preparing an article and a video for you on what I took to Northern Norway for a winter stay!
The official language of the country is Norwegian but they also speak English very well (except for some people…). I think that Airbnb are a very good way to discover the country. We were delighted with the accommodation we had. Only, be careful when you book since some of them mark their conditions in Norwegian only. We had only one not-so-cool experience: we had booked a very typical red hut. Only we had not seen that we had to bring our down, pay 10 € for the wood log because yes, there was no water, no electricity, no running water. We were not aware of the fact that we had to pay 40 € more to sleep in a room with them.
The flag
The Norwegian flag 🇳🇴 consists of a red background with a blue cross outlined in white. It has evolved with events. It has had this aspect there since 1821. Colors are the colors of freedom. The Scandinavian cross is the same as the flags of Denmark, Iceland, Finland and Sweden. The legend dates from the 13th century during the Battle of Lyndanisse, where the Danish king Valdemar II saw a white cross appear in the sky.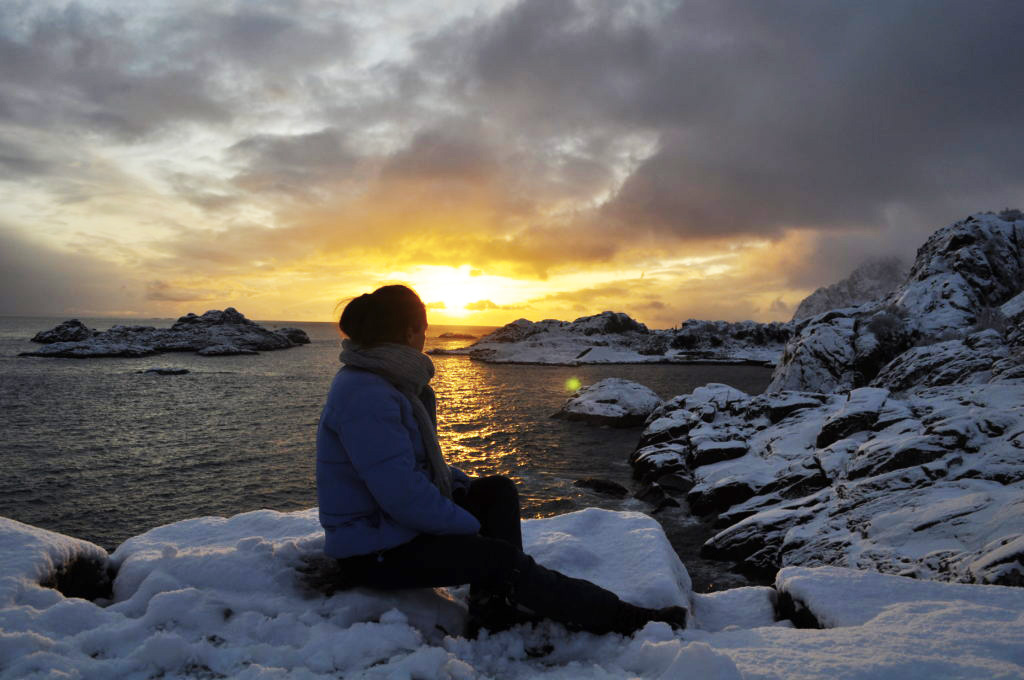 Day 7 –
Vestvågøya island
It is located north of Flakstadoya. It counts the localities of Stamsund and Leknes. Our Airbnb was in the city of Bøstad. But it's Leknes that we are heading for the day.
Haukland Beach
We made a stop in Haukland Beach where the guys decided to swim. The water was 4.5 degrees … This beach is superb. Snow-capped mountains in the background. Here is a hiking start. CLICK HERE. From up there we have a great view of the mountains and the sea. The hike is steep (like all those we did!) And in winter there is no path since everything is snow-covered: be equipped and careful.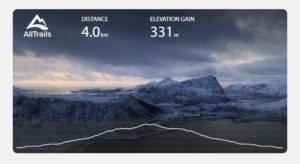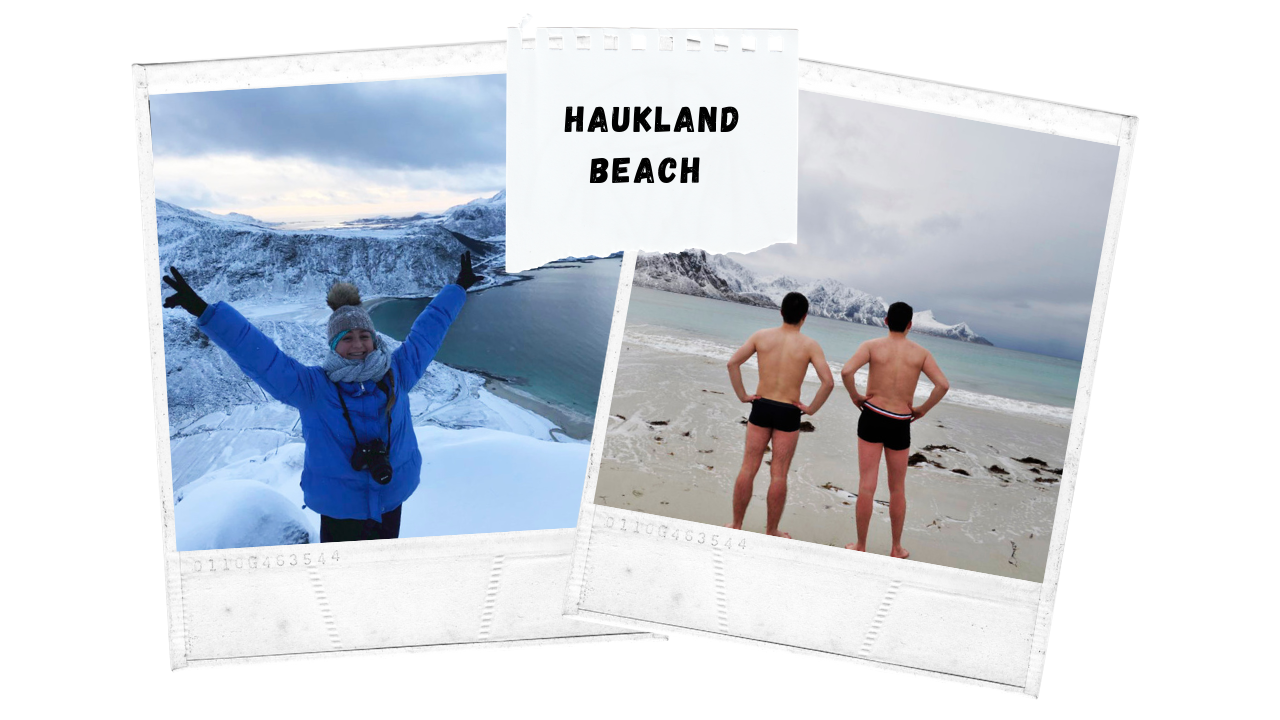 Day 8 –

Flakstadøya island
Today we are heading to the island of Flakstadøya. We found super cool accommodation: in the small fishing town of Fredvang. We saw on the mountains, bordered by the Norwegian Sea. It is superb. Today we're headed for the city I've often heard of: Reine. Here we decided to take a very famous hike. Unfortunately after several hours of walking, an Italian couple we met told us that we have to go back down because there is too much ice. We were very close to the end but we preferred to listen to them knowing that they were a little more equipped than us. This hike is I think one of the most beautiful to do in summer in dry weather: CLICK HERE.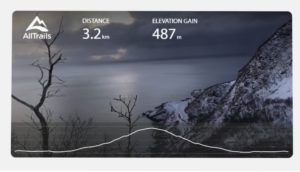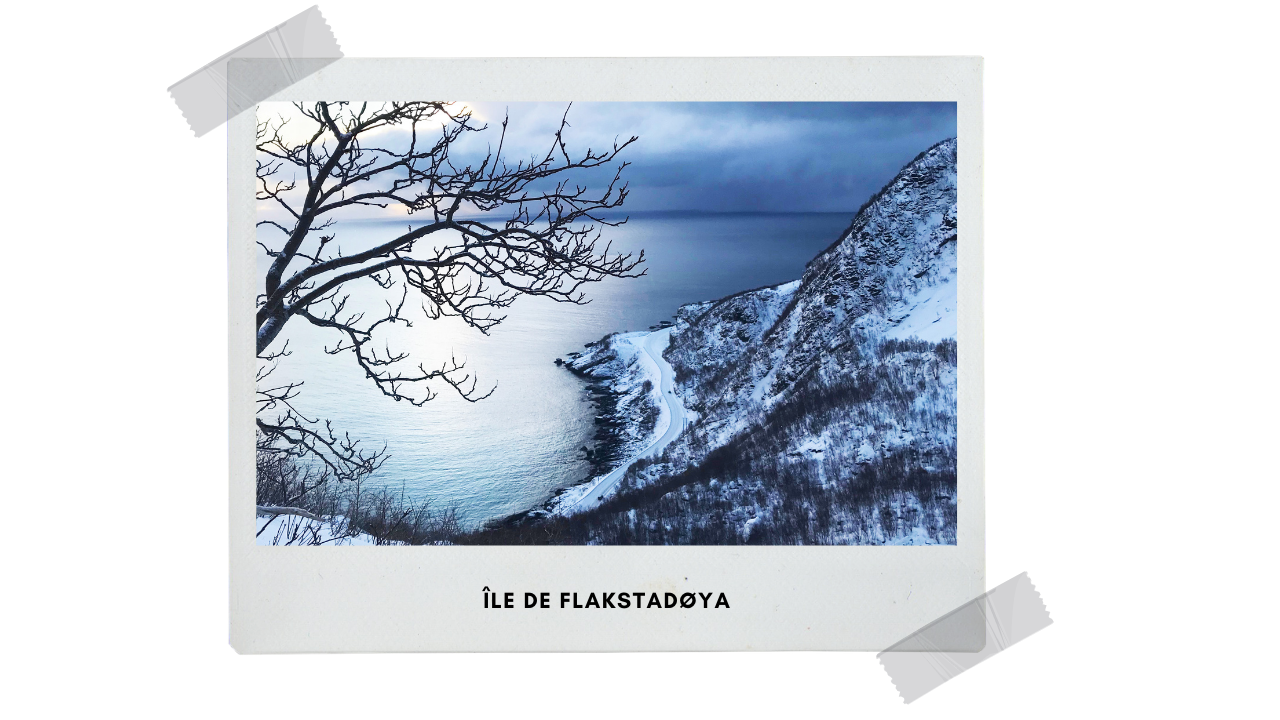 Moskenesøya island –

Reine
Reine is undoubtedly the most beautiful city that we have seen. This hamlet of 300 inhabitants takes precedence for its location of the most beautiful landscapes in Norway. Red houses on stilts, mountains carved by glaciers of the tertiary era … Reine is a fishing port and you can come there to walk in this small town and listen to the lapping of the waves against the boats …
.
Day 9 – Leknes, Vestvågøya
Back on Vestvågøya Island for a last hike … and the most beautiful! Here is the link: CLICK HERE. The water is turquoise, the view is magnificent… Of course the climb is steep and quite long but the game is worth the effort!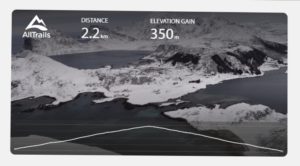 Day 10 – Back in Troms county –
Polar Park
Finally going back to Tromsø to take the plane we stopped in a large reserve of polar animals: the Polar Park. We found hinds, muskoxen, reins, wolves, lynx, elk… They are in their natural habitat and they are just splendid!
.
I hope you liked it! Don't hesitate to follow me on instagram and youtube.
See you soon!
Maëva♥