Previous article about Troms county.
Day 5 –
Andenes
I had heard of a place in Norway where you could see whales near the coast. We are heading towards the island of Andøya towards the city of Andenes. It is located in the far north of the island. Here you can go on a boat trip to observe these huge cetaceans. Unfortunately, after a discussion with a Swiss man (quite unlikely to see a Swiss man in a place so remote from everything!), He tells us that there is a lot of wind today and that the expedition is canceled. However, he gave us a place to go to see, the longest beach in Norway, among others. The town of Andenes is worth a detour: a red lighthouse, mountains surrounding this small village with the Norwegian Sea stretching out on the horizon.
.
Bleik Beach
We headed to Bleik beach to see this famous 3km-long-beach. From here, I opened the All Trails app which shows me some hikes nearby. Once we found directions on going to, let's follow them! We even saw signs for hikes! We decided to do the one called "Måtindtopp":  Click here to see the hike on the app.
Måtindtopp Hike
Distance: 7.4km Elevation: 483m Moderate
We're not going to lie, this hike is quite complicated in winter but it's worth it! I put the GPS point on the map for you – but anyway with All Trails you can easily find the start of this hike. If you are there in winter, follow the footsteps anchored in the snow. In summer, follow the path! When you get to the top, the wind is blowing but you have a splendid view of a frozen lake and the Norwegian Sea. It's splendid!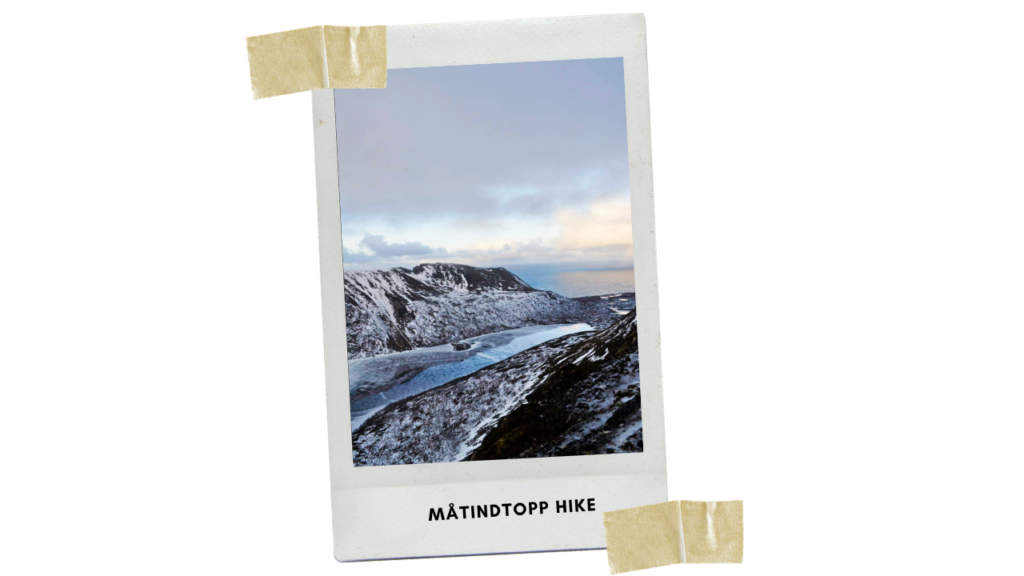 In the next article I introduce you the Lofoten islands. They are part of the Nordland county but… it's totally different than what we saw so far! Do not hesitate to follow me on instagram and youtube.
Maeva ♥