✏ Previous article about San Francisco
Welcome to the 300 000-hectares-park!
⇟ My youtube video about Yosemite National Park ⇟
Jamestown and Groveland
This is the second oldest American national park (after Yellowstone) and it's located around 3h30 from San Francisco. After we got the van in Oakland, CA, (I wrote an article click here), we headed to the East side. The first stop was in Jamestown where we did fly our drone (we were super excited to test it!). Then the night fell: it's time to find a place to stay for the night in the wood of Groveland close to the park entry. We used the app park4nights (free) which is very cool! It permits to locate free authorized (or not) places where RV's and van can stay for the night or more. You can also see on the app where you can drain the oil or put water on the reservoir for example.
.
Yosemite National Park
Yosemite park has an altitude of 600 to 4000 meters.
9h – When we arrived at Yosemite, after we paid the $35 fee, we stopped by Tunnel View, this wonderful scenic point on Yosemite valley. From there, we can see the summit El Capitan (center/left) and the very famous Half Dome (known for its laptop wallpapers! have you recognized it?). On the picture, it's background, we can barely see it (wait a little and you'll see it in a better way in this article!). 
.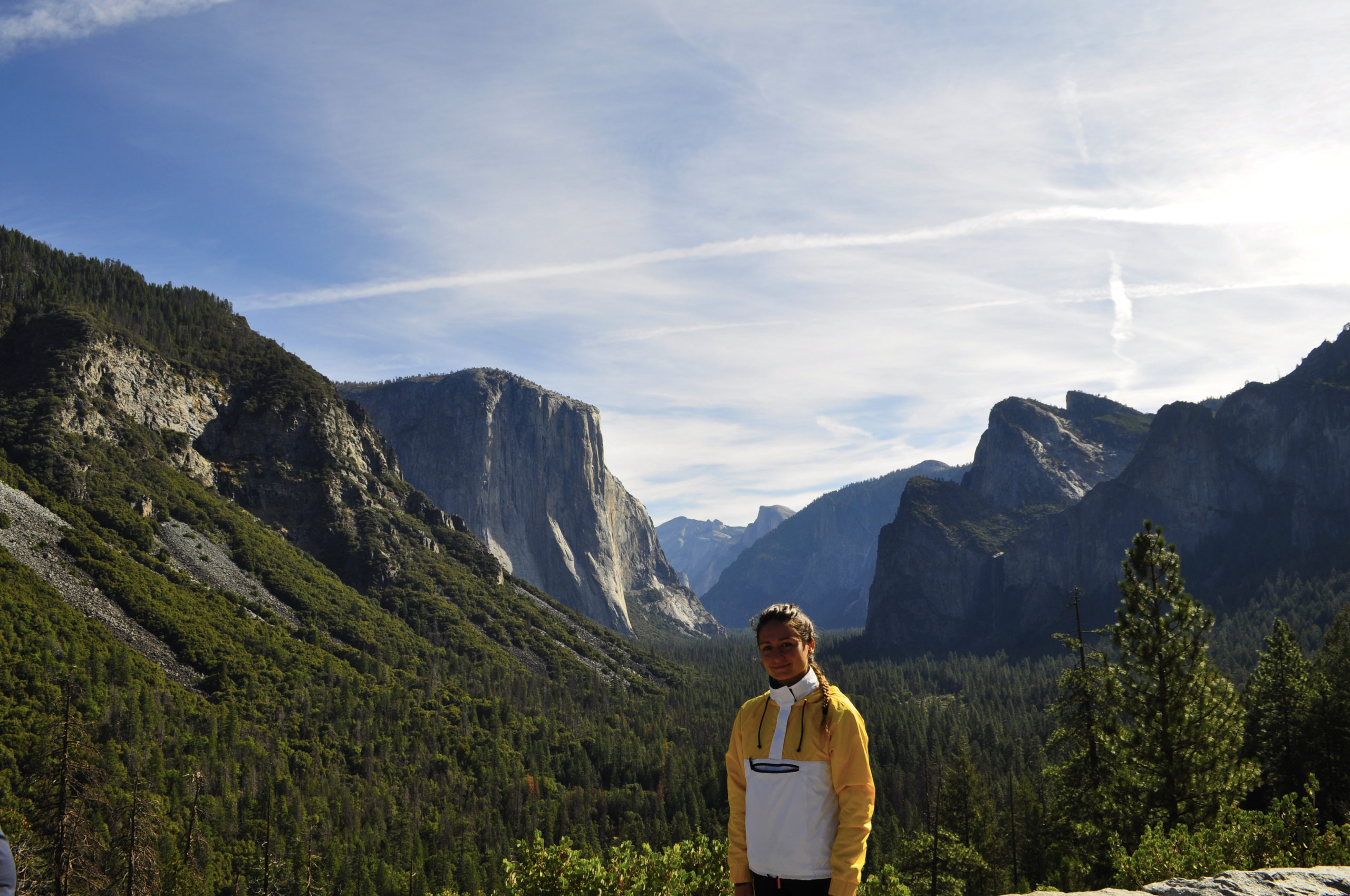 ♠ Tip: if you are going to the USA and visit many national parks, (at least 3), buy the Annual Pass America The BeautifuL. It costs $80 and you can visit as many parks as you want over the USA for one year. This is very worth it because in general, to get into a park you have to pay around $30. If you visit 3 parks or more, this is worth it!
Bridalveil Fall
9h30 – Next stop: Bridalveil Fall, this fall is 189 metrers high and ends to Yosemite Valley. You'll have to walk a little to come see it. The best period is early spring because the water comes from the melting ice of the glaciers. We were there in September but it's beautiful anyway!
.
Four mile trail 
10h – time for hiking! We went to the start of the « four mile trail » (which is in reality a 4.6 mile-hike one way). We prepared sandwiches and here we go! The ascent takes time and you won't go down during 7km. Bring water with you and warm clothes because up there, it can be very windy and if you stop many times to drink you can get a cold. Don't forget we are in the mountains!
The ascent took around 3h and we finally arrived to the top called « Glacier Point». Now we are happy! We have a wonderful view on 1/4 of all Yosemite park and on the Half Dome in front of us. We ate our pic nic, with a view! This scenic point is 2199 meters high.
Mirror Lake
16h – 1h30 is necessary to go down (and I fell because of a root – but nothing bad!) we went back to the van parked in the valley. We heard about a lake called "Mirror Lake" . We drove 5km to the village of Yosemite and we walked around half an hour (the path was very cute with pine trees!). What a surprise not to find a big lake but just plains and mountains background. We walked towards the mountains and we found a little river where we can see the reflection with the mountains. That's why it's called mirror lake! This is a seasonal lake so in Septembre, the lake was more a river.
.
18h – Back to the van we saw a beautiful sunset on the Half Dome : absolutely wonderful!
The day after, we headed to the East to Mammoth Lakes.
♠ Warning: The Tioga Road that crosses Yosemite National Park from East to West is closed almost all year long. Last year in 2018, it's been opened from 21st of May to the 20 of November 2018. Otherwise, it's been closed due to bad weather conditions. In 2019, it's been opened since 21st June 2019. If this road is closed: you can bypass it (I80 or US50 or the south, whether your itinerary after that). If you cross rangers on your way: ask them, they will be happy to answer you.
23h – We stopped to a parking for the night.
Tenaya Lake
7h – The day after, a big surprise was around the corner. We saw a big cloud between two mountains in the wood. Curious, we were wondering what it could be. We decided to come over and we saw a sign « Tenaya Lake » and we said "ok it's only a lake). BUT WHAT LAKE!!! I'll advise you to stop by this lake on the morning.
.
I hope you liked this article! Don't hesitate to follow me on instagram 
Maëva ♥
✏ Next article about Mammoth Lakes.