In this first article, I'll bring you along with me in San Francisco for 48 hours. This city is considered as the most European city of the USA. And as a European myself, I want to check this! Come with me!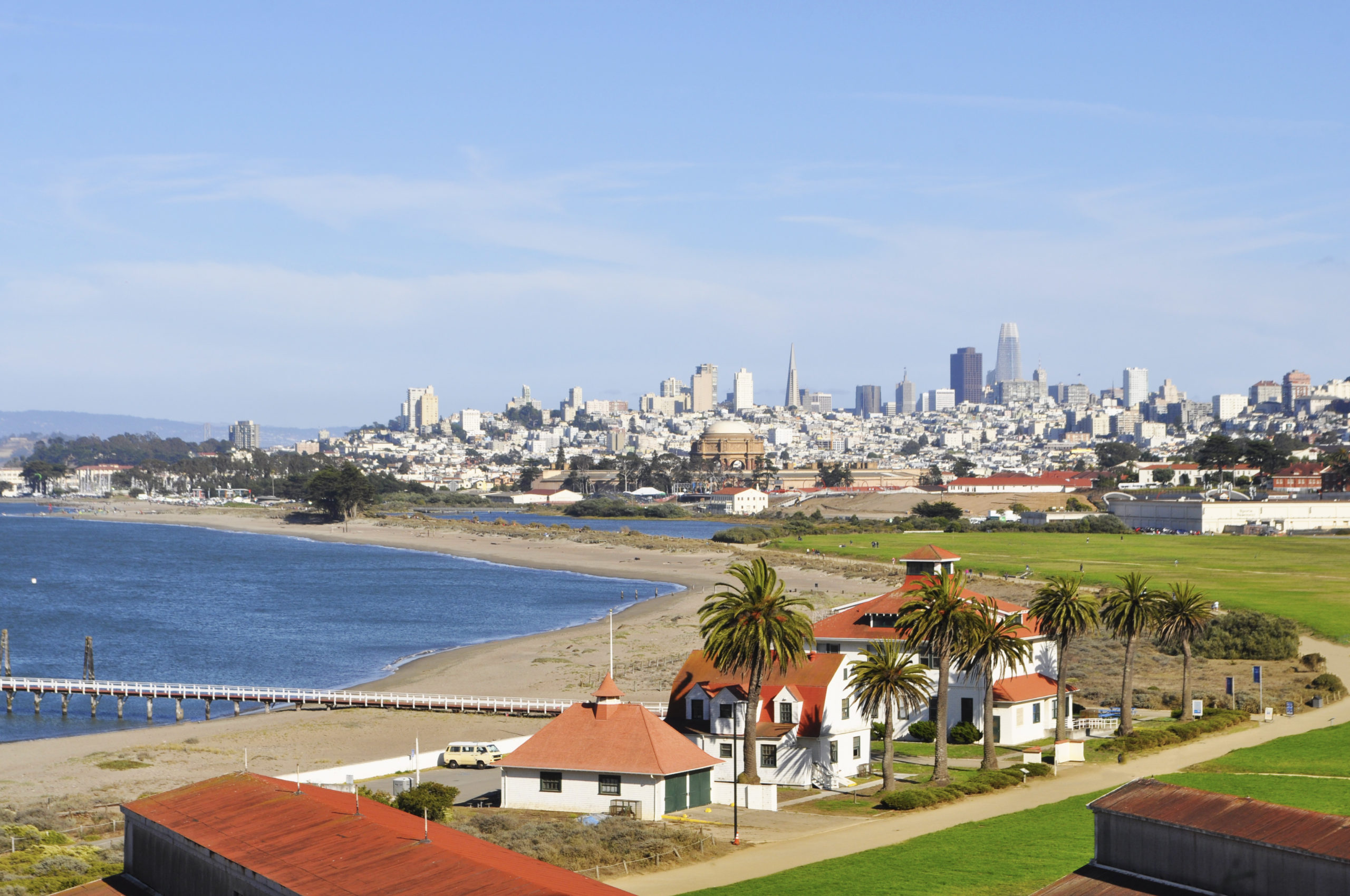 ---
♦ Information about the subway: you'll take your ticket before going somewhere and you'll have to pay a certain amount corresponding to the district you'll stop to. Be careful to pay for the return ticket because some subway stations don't have the possibility for you to pay a single ticket (but just to recharge the subway card). Don't lose your ticket during the trip because you'll need it to leave the subway. When your ticket isn't charged anymore, you'll have to pay another ticket. We also used Uber which is not very expensive (we did car pools).
The districts
We arrived at Oakland, CA International Airport, located in San Francisco Bay. We went to the Airbnb to let our luggages and  then we jumped in the noisy subway to go downtown (stop: "Embarcadero"). SFO is divided into several districts (we walked all the time):
Haight and the Golden Gate Park on the West 
Pacific Heights, Cow Hollow on the North-West (view of the Golden Gate Bridge)
Nob Hill and Russian Hill on the Center-North
Downtown
North Beach, Telegraph Hill and the Piers to the East (with Fisherman's Wharf and Alcatraz)
Soma, Mission, Castro to South-East
Here we are surrounding by buildings with street hills and cable car everywhere. Let's go San Francisco!
.
Haight and the Golden Gate Park district (West)
This is the place where you'l be able to see the famous Painted Ladies located on Alamo Square with the beautiful view of San Francisco (this is the cover picture of this article). This district is very very fancy and deserved to be seen. Careful! When parking facing uphill, turn the steering wheel toward the street. 
The Golden Gate Park is a 4 km² rectangular park and one of the biggest urban park in the USA, ahead of Central Park! Stop by the run where you'll find the biggest bisons of North America. Then, make a stop to the Japanese Tea Garden, that celebrates the reconciliation between the US and Japan during WW2. 
Pacific Heights and Cow Hollow Districts (North-West)
Today we rented bikes in Fisherman's Wharf (30$ for 2h/person), to go to the Golden Gate Bridge. This is the most famous bridge of all USA and the one that Americans like the most:  2 727 meters long and 27 meters large. The right side is for walkers with the view of SF Bay, the middle is for the cars and the left side is for bikers. Careful! There's A LOT of wind in the bridge so bring your warmest clothes.
Sausalito
Sausalito is a very cute town always compared to St Tropez in France. We can find yachting center, harbor, wood houses, art galeries, restaurants (there's also a French fast food!) et stores. And there's a beautiful view on the red bridge.
---
♦ Cruising the red bridge by car: it's free to go to Sausalito but if you want to come back to SF, you'll have to pay. We were surprised because there was a toll booth but no machines to pay. Actually, after crossing the bridge, you'll have to pay online on this website:
https://www.bayareafastrak.org/en/guide/GGBridgeToll.shtml and choose the option « one-time payement » + « pay online now ».
---
.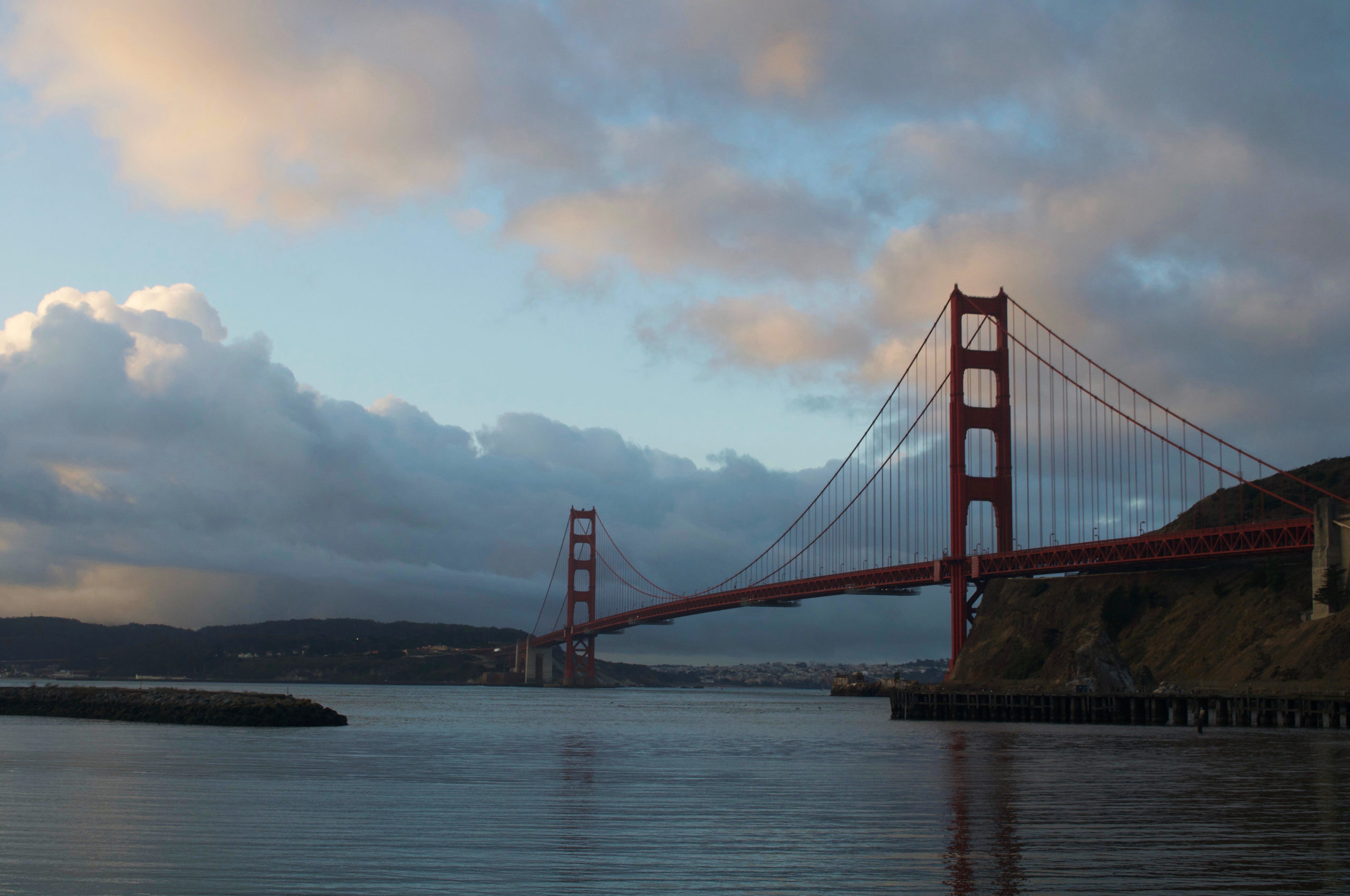 Baker Beach
Last stop in this district: Baker Beach. When you leave the bridge to go to SF, go toward Presidio Park. This is definitely my best place! A quiet beach with the Golden Gate Bridge background… It's amazing!!!
North Beach, Telegraph Hill and the Piers district (North-East)
Fisherman's Wharf
Today we are going to the Fisherman's Wharf, because I heard we can eat delicious crab sandwiches and clam chowder. We went to Boudin bakery and we ordered a « clam chowder » and a Dungeness crab sandwich. That was so good! WARNING! (and this one is very important!) If you eat in front of the ocean, be careful to the gulls that very like those specialties as well and could steal you. The restaurants precise that no refund will be given in this case!
.
Prison of Alcatraz
In this district you'll see the prison of Alcatraz, that in 1850 became a prison based on a military forteresse. In 1933, American justice took the property of this prison. It's located on the water, 1 miles from the coast and had a very high security system. In fact, it's impossible to escape from the prison because the water is freezing, the current is powerful and some sharks live in the ocean. You can, since 1973, visit this famous place, that kept as a prisoner Al Capone. Don't forget to book your ticket in advance on the Internet! Otherwise, there's kiosks at the Pier 33 but be careful because it might be full of tourists!
.
Pier 39
Then we went to the Pier 39 to say hi to sea lions who live here since 1990. There are sometimes more than 600 by the end of July to May but some sea lions are there all year long. The cool thing is that you'll see the Golden Gate Bridge background!
.
Coit Tower
Now, enroute to Coit Tower, this 64 meters high tour, built in 1933 offers a beautiful scenic point above SF. We can see the Golden Gate Bridge, Alcatraz prison and the SF-Oakland Bay Bridge. This tour is actually a gift offered by Lillie Hitchcock Coit, rich heir, to the city of SF to honor the firemen dead during the blaze of 1906.
.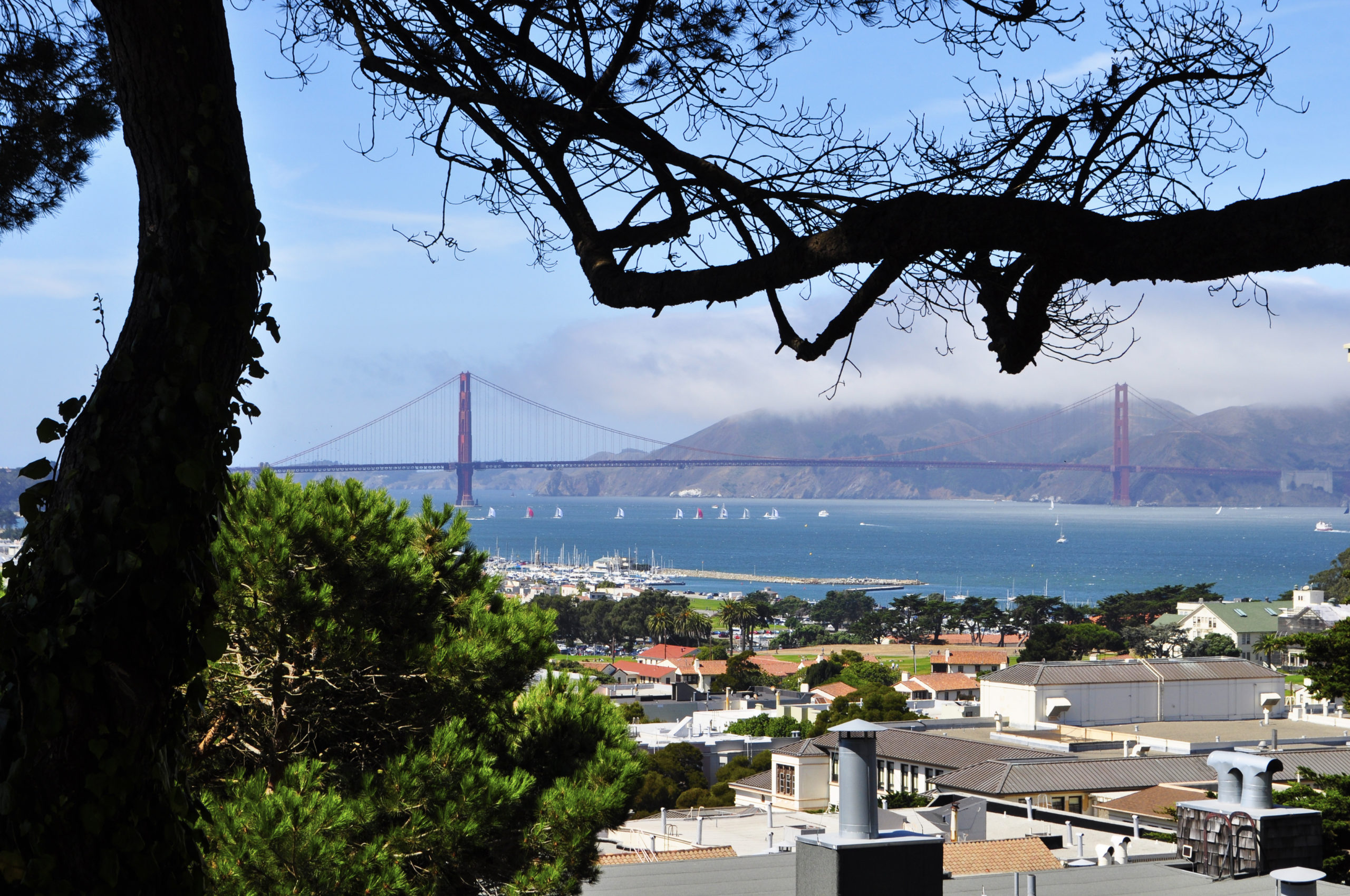 Vallejo Street
Close to the Coit Tower, there's a very cool place to take pictures of the city of SF and his victorian houses. This street is: Vallejo Street. Climb the stairs and enjoy the view!
.
Nob Hill and Russian Hill district (center-north)
Lombard Street
Go down of the Coit Tower towards Lombard Street. You'll discover beautiful victorian houses. Lombard Street is the "most winding street in the world". It's very touristic but original. It has 8 bends where only good drivers can go through. Go up the street by the little stairs on the right and you'll have a beautiful view from up there.
.
Downtown (city center)
Chinatown
We made a stop to Chinatown, a very beautiful district where everything is written in Chinese. We can feel the Chinese spirit!
.
San Francisco-Oakland Bay Bridge
I really wanted to see one street in San Francisco. This is the one where we can see the San Francisco-Oakland Bay Bridge. After walking many kilometers, we managed to find it! It's near the prestigious Fairmont Hotel and Intercontinental on California Street. It's wonderful!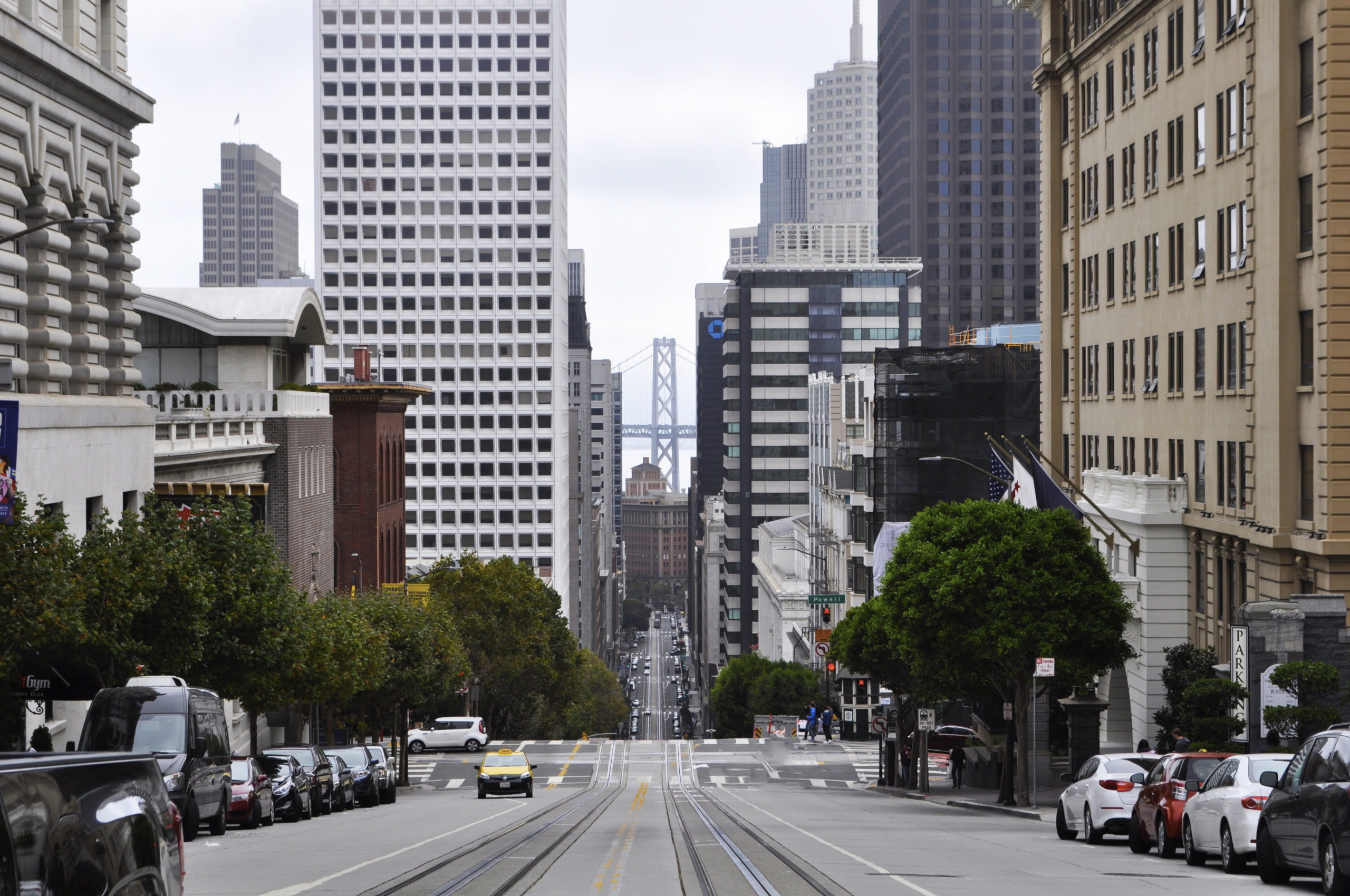 I hope you liked this article! Don't hesitate to follow me on instagram 
Maëva ♥
✏ Next article about Yosemite National Park.