✏ Previous article about Mammoth Lakes.
When we left Mammoth Lakes, we drove 4h towards East to wake up in the middle of nowhere close to Death Valley. This morning, we were far away from the gusts of wind and the cold of the mountains. It was so so so warm there. We were arrived in Nevada!
⇟ My youtube video about Las Vegas and Death Valley ⇟
Beatty
8h – We woke up in the city of Beatty, NV, little town of 1154 inhabitants, lost in the desert. This city looks like a big campsite, mobile homes and trailers everywhere. We stopped by the gas station to full our van (→ more explanations on the article "US Van – 3 weeks road trip" about the consomption of gas and the ways I used to pay gas in the USA). Then I went to the Chamber of Commerce, which is in reality a tourism office. The lady was very very nice and gave me a lot of papers about Death Valley as well as Rhyolite, a free ghost town very close from Beatty. Awesome!
9h – Beatty is one of the fifth entry to Death Valley NP:
North on NV267 

North-east, close to Beatty (the one we took)

to the west, after Lone Pine on CA190

to the east after Death Valley Junction on CA190

South-east after Shoshone on CA178 (Badwater Road)
In less than 20 minutes, we were at the north-east entrance of the park. Our fist stop was the ghost town Rhyolite.
Rhyolite
Rhyolite, located on HGW374 was founded in 1904 when the gold rush was at its zenith in 1907-1908 with its 8000-10000 inhabitants. Then it was suddenly abandoned for economic reasons. We could find hotels, restaurants, stores, 50 saloons, banks, opera, auditorium, school and something very surprising: a swimming pool in the desert! Today we can only see some ruins. If you go through this town: make a stop it's free and worth it!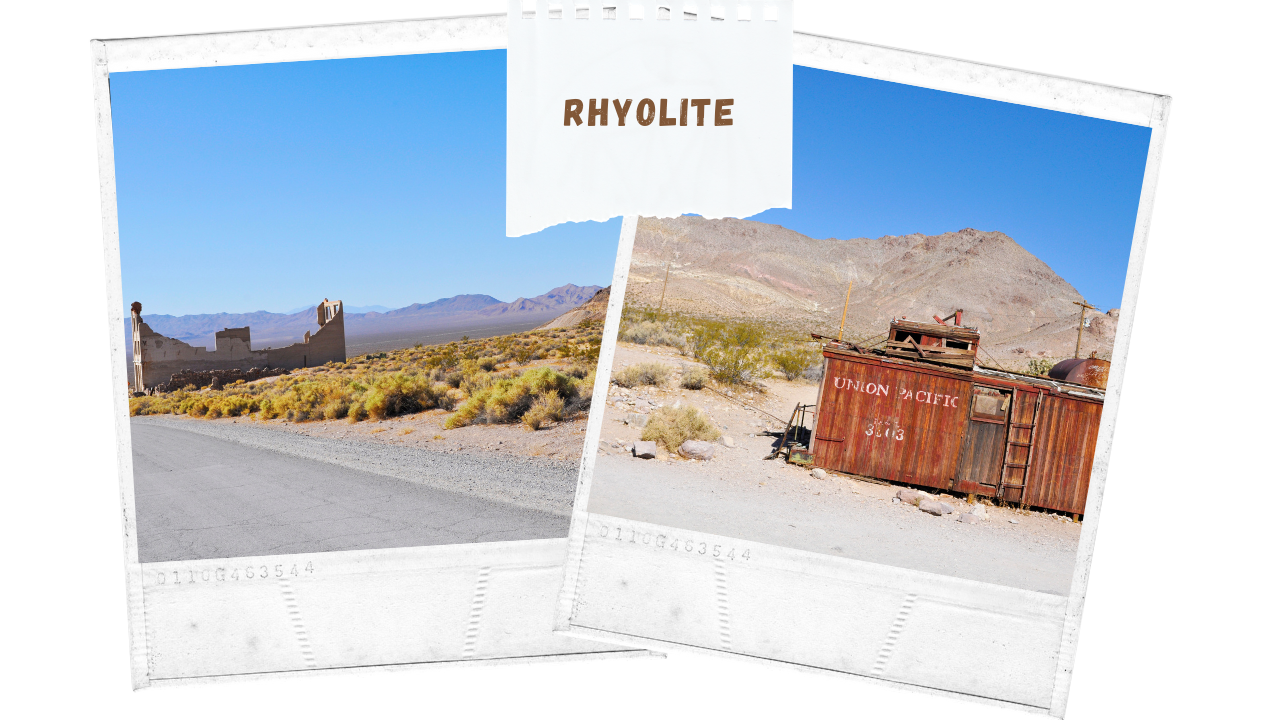 Death Valley
10h – After that, we drove to Death Valley which is close (look at the picture above, Death Valley is just background). The entrance for Death Valley is $30 and you will be able to pay on the machine (there's no kiosk like in other national parks, living conditions are extreme here, that's why). Pass America The Beautiful works here (like in every American national parks). 
---
♠ Good to know: if you travel in van or RV's → some rental car agency  PROHIBIT the entrance of Death Valley from May 1st to September 30th because of the heat. Look at your rental contract or ask your rental agency not to have troubles. If a problem happens you won't be covered. 
---
This day, it was 39 degrees Celsius when we crossed the park's sign. At this moment we know why we call it Death Valley. Dry landscapes, arid vegetation, dull calm… In here, we measured the highest temperature in the world: 56.7 degrees celsius in Furnace Creek on July 10th 1913. 
.
♠ Warning: if you come with your own vehicule, I advice you to bring lot of water, check your tires pressure, and buy or ask to tourism offices a map of the park.  Moreover, don't put AC on in the park because your car can overheat. Indeed, you'll cross signs « 57 miles NO SERVICES ». So be careful not to break down.
The lowest point of Death Valley is 85.5m below sea level in Badwater. We didn't go there but when we were in Furnace Creek, we were 30m below sea level. Death Valley is 90% californian and 10% belongs to Nevada.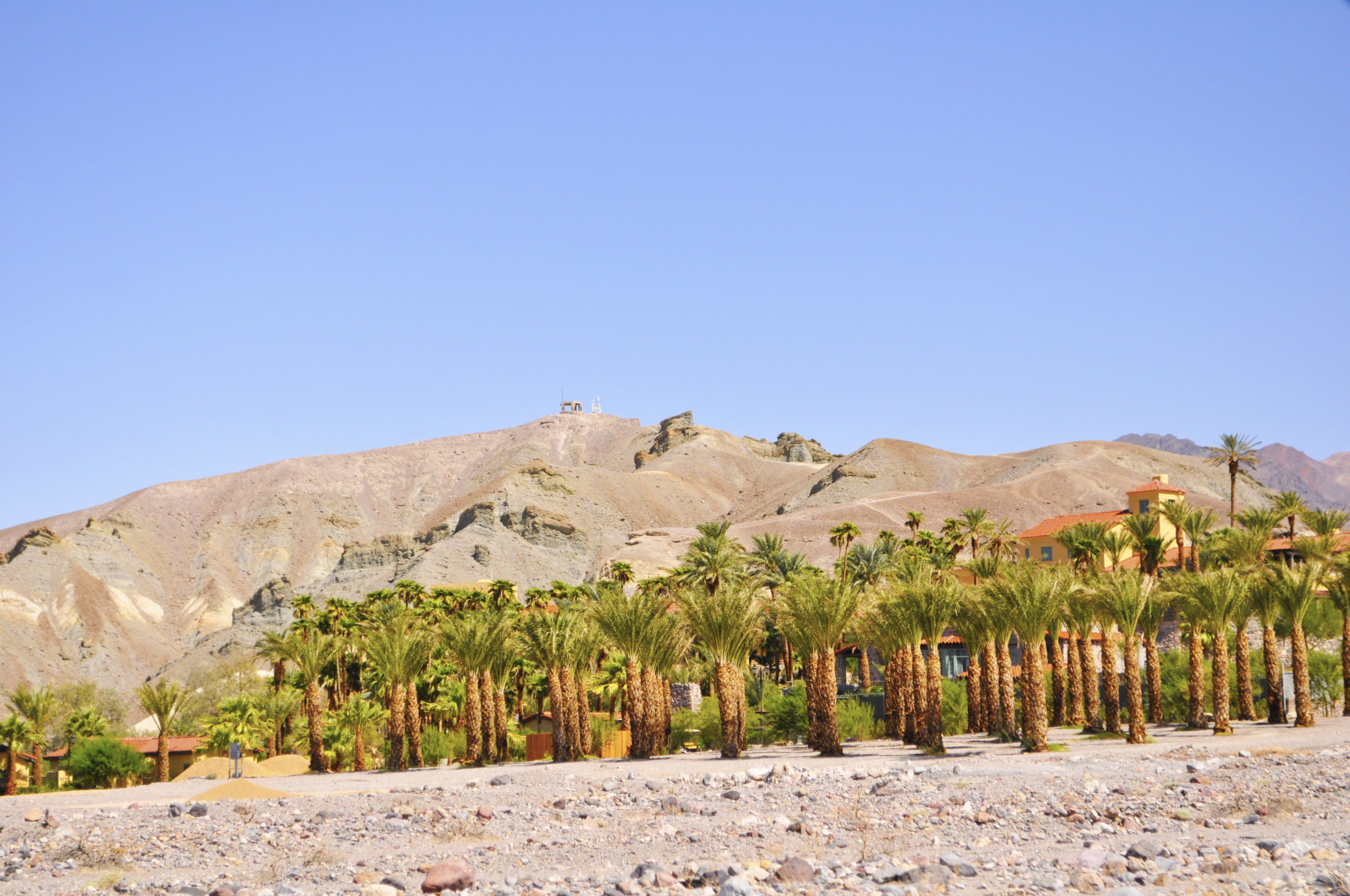 Zabriskie Point
12h – Our last stop was Zabriskie Point. 5 to 10 billions years ago, there was a big lake. Today, soils are eroded by wind and water and are forming waves. This place is very touristic but worth it! You can park your can and walk to the scenic point.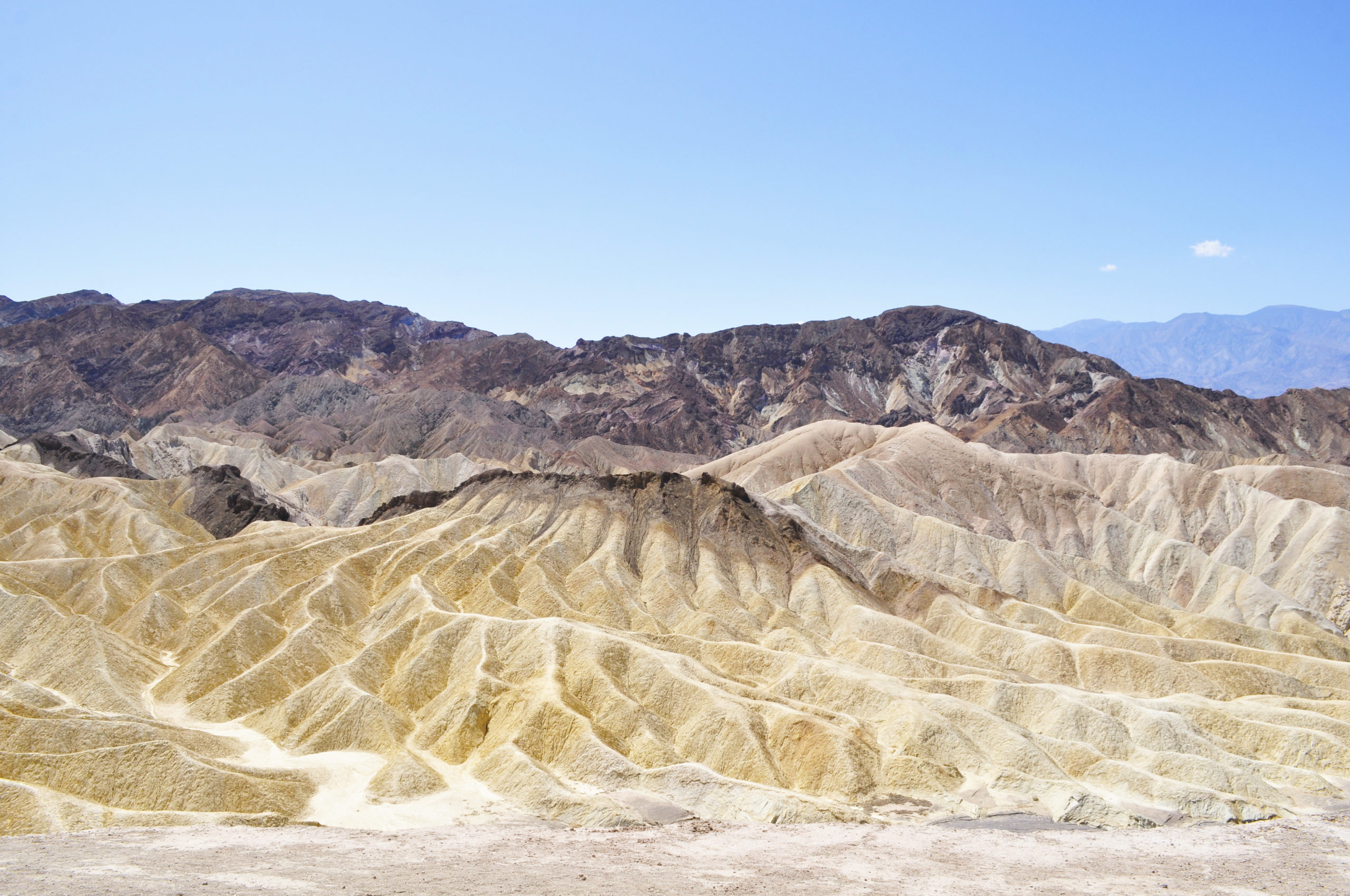 Las Vegas
1 PM – We left the park to go back to Nevada and drive to Las Vegas. We make a picnic stop and then recharge the water tank of the van. A car accident involving two cars on the I95 prevents us from taking the expressway to Las Vegas and forces us to make an hour detour.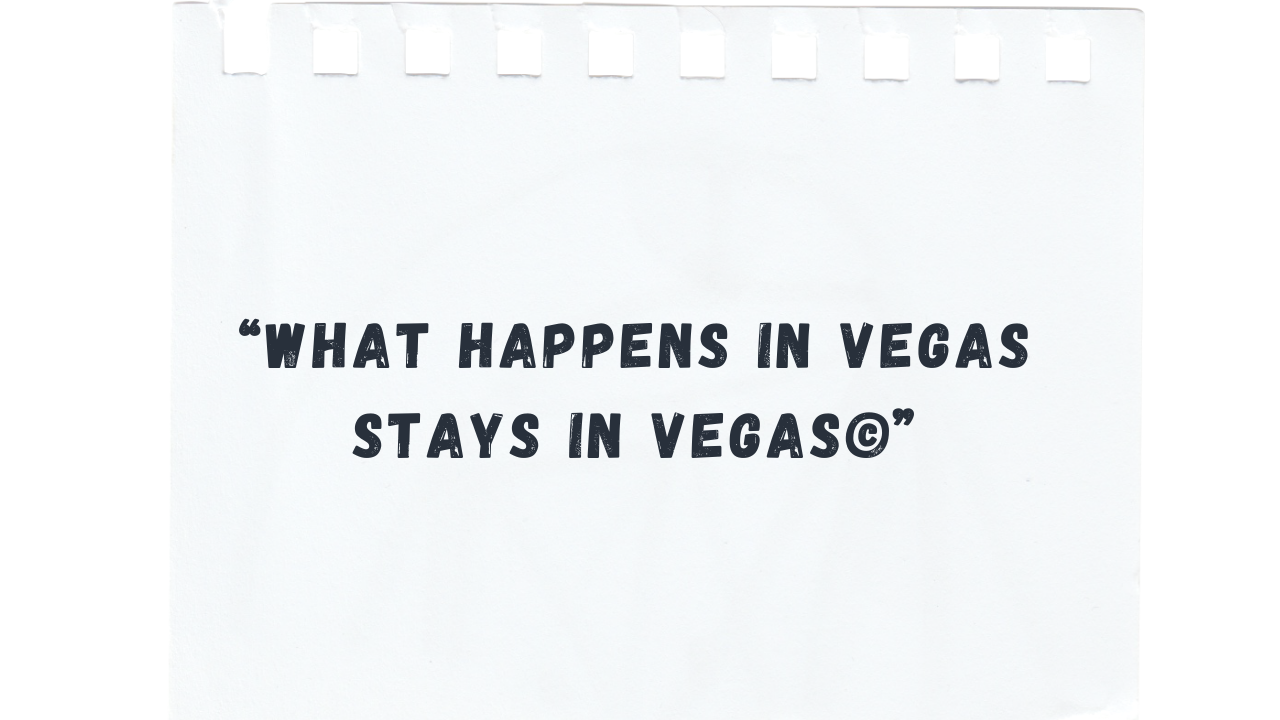 The strip
5:30 PM – Approaching Las Vegas, finally! We don't know yet how the night will be going. Il fait encore jour et pour le moment on ne sait pas encore ce qui nous attend. We parked the van on the Luxor Hotel parking for $10 for 24h! Then we went to the main street of Vegas!!
We went on the « strip » of Vegas. Night is about to fall and we all know that nights in Vegas are special! I think it's good to arrive when it's not dark to look at the beautiful hotels and to stay the night for the madness! 
Here is it! Every hotels are free for public and believe me, they are amazing inside! They all have casinos but the decorations are wonderful and we want to take pictures all the time. I advice you to enter in as many hotels-casinos as you can to feel the different atmosphere, so special. We went to the Bellagio, The Luxor, The Volcano in Mirage Hotel, The Venetian (my fav!), The Circus, The Caesars Palace…
Don't miss the shows every nights:
Bellagio, Water Fountain Show from 8pm every 15 minutes
Mirage Hotel, the Volcano, 8pm and 9pm
.
I hope you liked this article! Don't hesitate to follow me on instagram 
Maëva ♥
✏ Next article about Zion National Park.